Sales, Service, and Repair for Lehigh Valley Stair Chair Lifts
Do you want to remain comfortable in your home? We can help with our responsive service for stair chair lift installation, service, and repair to help families transition loved ones home from hospitalization and rehabilitation. These times are emotionally stressful and the discharge process is never easy, but we make the stair lift installation process simple – Click Here to Schedule Service or A Free Estimate! Our service area covers the Lehigh Valley, Poconos and western New Jersey.
On-site assessment within 48 hours of your call. You will receive a free estimate for lift installation.
Installation will be scheduled at your convenience and is typically done in less than half a day.
All lifts have warranties and service maintenance intervals so you will receive support throughout your ownership of the lift.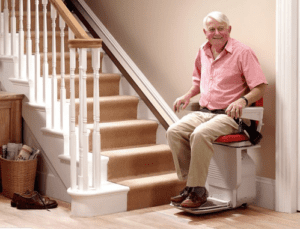 Stair lifts come in a variety of qualities, including materials, components, comfort levels, durability, and overall dependability. We only sell products that we stand behind, so rest assured that you have a high-quality lift when you work with us.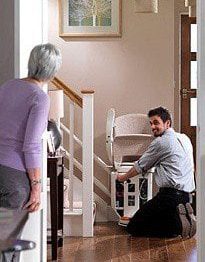 All our products are competitively priced and our service and responsiveness provide peace of mind for you and your family members. Should there be any service or maintenance issues, we are local and responsive when handling your initial call and dispatching our service technician to address your needs in a timely manner.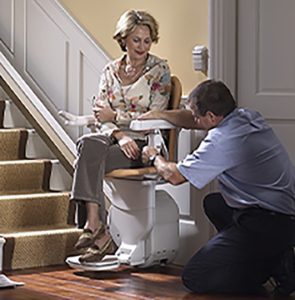 Power Stair Lifts is locally owned and operated. Started in 2009, our attitude has been to "lift people up," in both a literal way and more importantly, with our compassionate approach and sensitivity to the needs of our clients. We will match you with a lift that addresses your needs and never oversell you more.
I was very happy with the installation. It was thorough and very professional. The installer cleaned up our area after the install very well. The instructions given to me were very good and complete. Very happy with our new stair lift.
Your installer was very professional and his craftmanship was excellent. At the end of the job he cleaned up the area very well and provided clear instructions on the use of the stair lift.
I am so grateful for the stair lift. It ensures that I could stay in my own home. I received an appointment quickly and the installation was done very well.
My daughter has MS and she has been going through some bad times. The technician who installed the chair was fantastic. As a mom, I really appreciate the care and help to deal with the problem. Company is number one and staff really care about the people they deal with.
Get in Touch
Give us a ring
484-895-1188
Two offices covering the Lehigh Valley:
2700 William Penn Hwy, Easton, PA 18045
4847 Hamilton Blvd, Allentown, PA 18106